Hey friends, this post is a little late… but I hope you find it before Tuesday's live streams from Microsoft Ignite.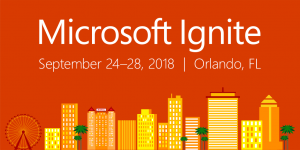 Oh yea, Microsoft Ignite 2018 – we're live streaming from there.  I've got at least 3 streams planned, a 4th under consideration, and more rogue streaming if I can figure it out.
Here's the breakdown:
Workshops!
I have TWO "What's New in ASP.NET Core 2.1" workshops scheduled, and the workshop space seats only 60 people.  SIXTY…  There are 30k people at this conference.  I did the math.  I'm stealing the video, wearing a headset and streaming the whole thing on Twitch.  Here's what YOU need installed in order to follow along:
If you are not running Windows, you can grab a copy of Visual Studio Code, but you won't have access to the wizards and features that I show during the workshop.  I will NOT be able to stop and address those editors during the event.
Tune in on Twitch Tuesday at 4pm ET / 1pm PT / 20:00 UTC  OR Friday at 10:45a ET / 7:45a PT / 14:45 UTC
Ubuntober?  What is Ubuntober?
Yeah, we're making this a thing…  starting October 1 and running for the duration of October, I will be writing all code on stream using Ubuntu Linux.  I primarily write code in C# and .NET Core, and during the entire month we will use Visual Studio Code to build CoreWiki and other cool applications.  We're going to show how cool Linux is, and how great .NET Core is on Linux.  I hope you join me to learn more about how to use .NET and Microsoft tools on Linux throughout the month of Ubuntober…  err, October!