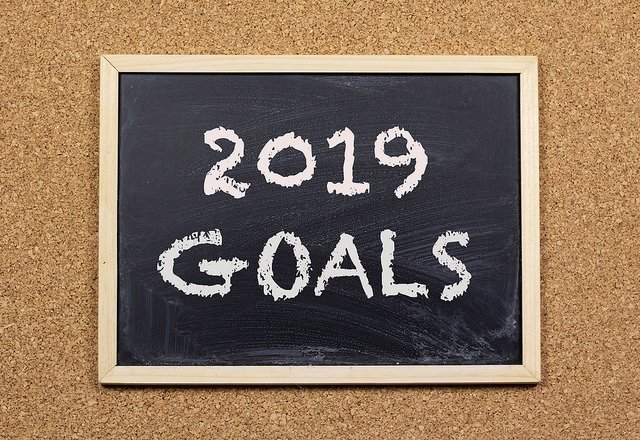 I haven't really put pen to paper or committed bytes around a resolution in the past, but I want to make some changes and set some goals for my stream in the year ahead. I not only want to improve it professionally, but also make some personal changes for the better.
Stream Goals
On my Twitch stream, I'd like to improve the opportunities for you to engage and learn more with me. I'm planning to set up a regular schedule that you can access, more discrete segments, and summary videos. Let me get into some specifics:
Regular schedule
I think a regularly available schedule, with detailed projects and topics will give you more insight into when you want to join me for a live show. Hopefully, more often that not, you'll find most of my planned shows interesting 🙂
We tried an evening stream in 2018, and the viewership just wasn't there. I'd like to try again in 2019, perhaps with a monthly Wednesday evening stream. I'll run a poll to help collect some data to identify an appropriate schedule for an evening stream.
I want to get back to having a guest on to pair program, and I'd like to have a minimum of two guests a month, preferably on Thursdays. These guests will appear on the schedule along with the topics we will be discussing and working on.
As viewership increases, it is becoming more of a distraction to handle "ask me anything" questions at any time during the broadcast. I had started an issues area on GitHub for folks to ask questions, and I need to clear that out of some older questions that are hanging around. Instead, I would like to open an AMA channel called "ask_jeff_anything" on our Discord server and spend 20-30 minutes each guest-less show "going through the mailbag". This will let me plan for some of these questions and set up a demo or two ahead of time instead of building it on the fly during the show. This will also allow me to focus on questions relevant to the current task, discussion, or segment.
Bot Repairs
I've been adding features to the stream and our chatbot has fallen behind on keeping up with automated Q+A as well as other features that keep it relevant to viewers. I'm going to spend some time in the next month repairing the bot, merging some features, and making it a rock-solid resource you can use during the show.
Discrete Segments
This is something that I've tried to stick to, having a structure to my shows when I stream. Starting in 2019, I'm going to make this a bit more structured. I want to use this basic structure:
Welcome

Introduce Hat
Introduce Music

Updates since last stream
"Ask Jeff Anything" demos
Today's Coding Project
Wrap-up

Invitation to YouTube channel and Discord
Raid the next streamer
Another benefit of this approach, is that the 'Ask Jeff Anything' segment will be easily isolated and can be popped out as a shorter informational video on YouTube. Which leads me to the next topic…
Streaming Help
I'm almost at a point where I need help with the stream. Between content planning, demo writing, research, and production there are a lot of tasks that I do around the stream. I've automated a LOT of my processes, but there are some things where I need some human assistance, and I have started actively seeking help.
Starting in January, I am bringing on a stream coach to advise me on how I should grow the stream. Additionally, I am starting to work with a video editor to help produce better segments and videos for the stream. Both of these steps should lead to better quality content both live and in the recorded segments. I'm excited to engage both of these folks and dramatically improve the stream.
Personal Goals
There's no getting around this one, I've put on a little weight over the past year or two. It's not pretty and really bothered me during my holiday in November this year. I'm going to work on my diet, which doesn't need MUCH help, but I think we can all improve our eating habits.
The real focus, and the part where I think we can have a little fun with this, is getting me exercising regularly and holding me accountable. I'm going to start daily morning cardio on my home elliptical machine… and graduate to a gym membership in the Spring.
Along with this, I'm going to embed my weight in each stream using some FitBit APIs and a smart bathroom scale to upload my data regularly. I think my current scale supports this, and if not then I'll grab one that does. I want to focus on my health a bit, and think this could be a fun way for me to accomplish something positive for me while sharing my journey with you. I have a little more research to do on this, and it might change in the next day or two to accommodate my technical needs.
Regardless of the technology we use, I want to set up a shared weight loss community area (FitBit does this really nicely) where we can encourage each other in getting healthier.
Summary
There's a lot to improve, grow, and changes to make in 2019. I hope you join me for this as I take the next steps in my streaming journey and hopefully improve myself a bit along the way. What improvements are you making for 2019? Am I on-track with these ideas? Are there things I should be working on in the new year that I didn't cover? Sound off in the comment area below and I'll see you online, starting on January 3rd 2019.