Yesterday, I ordered a USB hub from Amazon and was promised a 24 delivery using Amazon Prime. That's cool, I wasn't expecting the device until maybe Wednesday, but thanks for the deal! Except… that's not what happened. It seems there was an accident or my package was lost… but I'm not sure what happened, and I'm even more lost as to my next steps. Let me share what I have heard, and why Amazon makes these RARE scenarios impossible to figure out as a consumer.
Out for Delivery!
This is now the email we receive to know that the magic folks, the delivery people, are going to visit our doorstep today and drop off the packages we ordered. We consumers have been trained to keep an eye on the front door, sometimes even with a camera, to prevent our packages from being stolen. I received this email early in the morning: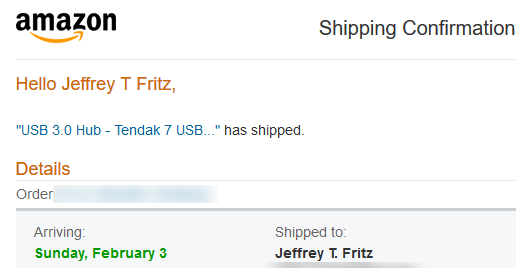 Now we're talking!
The Yellow Ring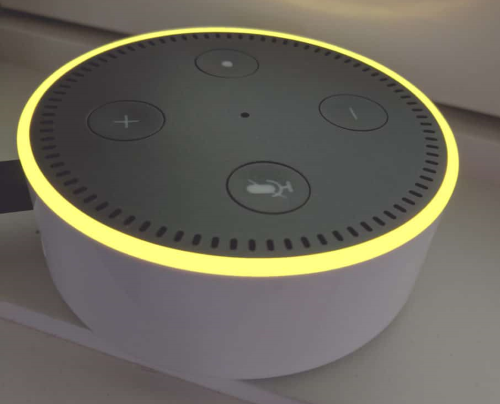 At 1pm today, while grabbing lunch, I noticed the Echo device in my kitchen was flashing a yellow ring. What the heck does that mean? I opened the Alexa app on my phone, and there was an indicator next to "Activity" when I clicked that, there were no messages or notifications there, but the yellow ring stopped. I checked the 'Track Shipment' button from my original email and it reported that my package would not be delivered today. Oh… ok… no big deal, I'll get it tomorrow I guess.
The Super Bowl started, and my Echo started with a yellow ring again. This time I reached out to folks on Twitter and searched for the meaning of the yellow ring and how to decypher it. I was directed to ask Alexa for messages, and she reported I didn't have any and stopped flashing. Strange again.
This leads to a real problem in my mind as the consumer: why was this yellow ring appearing, where Amazon is trying to communicate something to me without ANY directions, any indication in the companion app, nor any email that correlates to it if I DIDN'T own the Echo device. Something smells fishy, and I start to lose trust when I get half-hearted attempts at communication from customer service.
Package Lost Email
At 11pm, received the dreaded 'Package Lost Email', after the package was promised to be delivered by 9pm. I'm not upset, but more annoyed and think to myself: It'll be here tomorrow… right?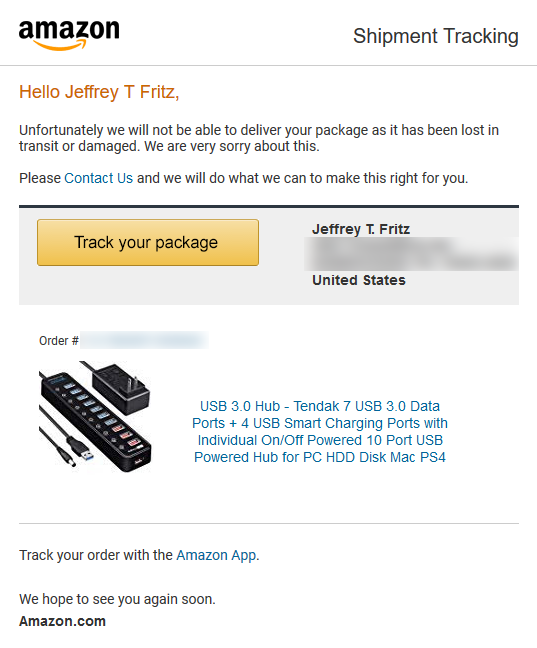 I clicked the 'Contact Us' link to figure out the next steps. Not a problem… but why is 'Track your package' so prominent and happy looking when CLEARLY there is nothing to track. In fact, here is what 'Track your package' shows: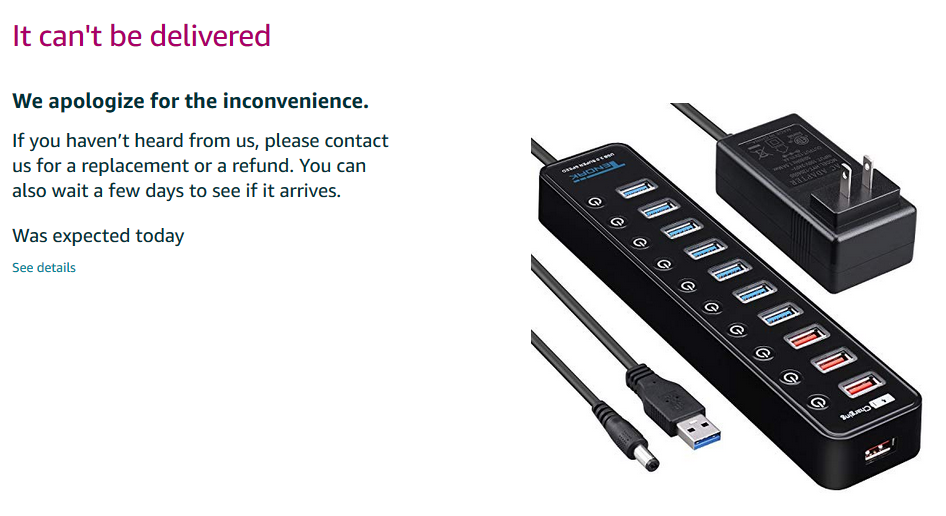 Right… got it… can't be delivered and you can't tell me anything more. After I clicked the 'Contact Us' link I'm greeted with this: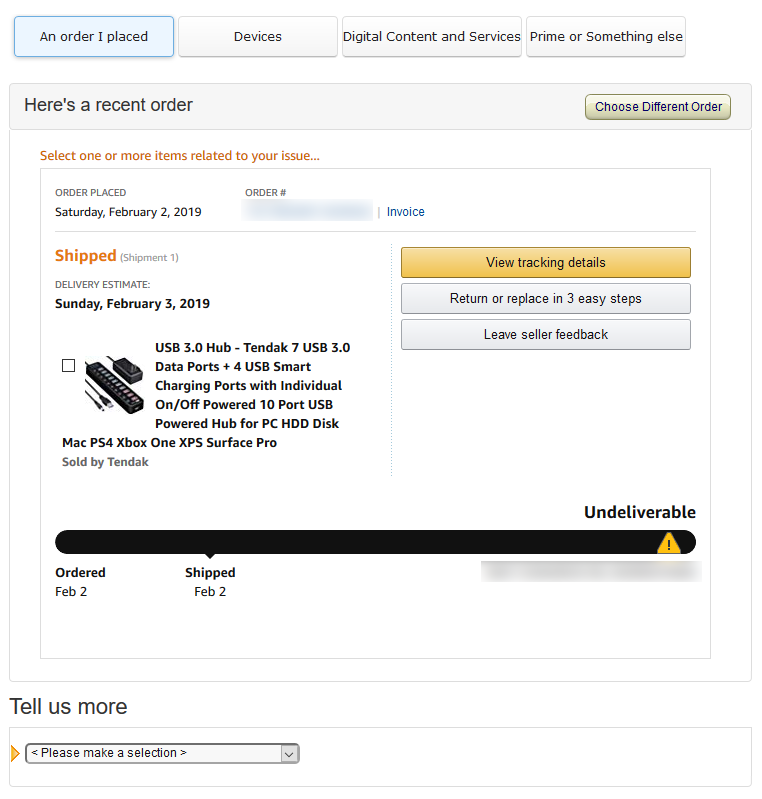 Once again: 'View Tracking details' is prominent and right there highlighted as THE action to take. It leads to the previous screenshot, an obvious dead-end. The second option clearly isn't the answer here either: 'Return or replace in 3 easy steps' as I'm not returning or replacing anything – it never made it to me. There's no feedback for me to leave for the seller either: it was lost in transit.
My only option is the 'Tell us more' combo boxes at the bottom… there's just one problem: I don't know anything about what happened to tell Amazon!
This is all happening before I expected to receive the package, so I'm not angry about the package, but now I'm annoyed because I've fallen into a customer service problem that screams "we don't appreciate you"
What am I supposed to tell Amazon about a problem that I am visiting their website to learn more about? Don't they know the problem with this order? There are "12 more items in stock!" as their helpful order page reminds me. Why not just ship another one and not even route me through this nonsense?
How Jeff Would Solve This
This is a HUMAN problem… not a technical problem. There are accidents, missed connections, and things break all the time. We all understand that, and occasionally these things happen.
Customers know NOTHING about your company's processes, and quite frankly they don't care. How can you keep them happy when something like this happens? A simple email similar to the following would have made this 100% better:
"Mr. Fritz, we're sorry but there was a problem with delivery of your order today. We will attempt to re-deliver it tomorrow. Our apologies for this incident, and to show our gratitude for your patience, we'd like to give you a gift card credit for 20% of the value of the package that should have been delivered today"
Simple… I don't care about what happened, and I'm getting a little thank you credit that I'll use with some of my own money in the next few weeks to buy something else from the service. Customers are EASILY pleased when you work with them, hide your politics and processes, and give them CLEAR directions on next steps.
Summary
I'm still clicking around this website trying to figure out the best step to take to understand what I can and cannot do to have my package delivered. It's late… I'm tired… and I know I won't receive the package tomorrow regardless of what I do on this website. I'll figure it out some other day, because at this point its a waste of my time