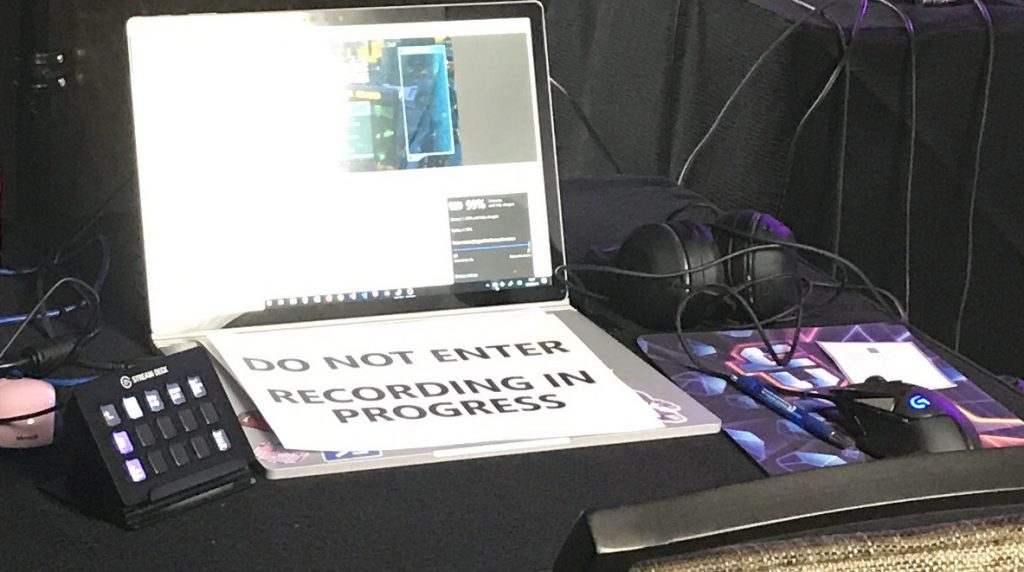 This May, I spent a week in Las Vegas hosting and streaming the SharePoint Conference event. It was the first event that I streamed that relied on me solely as the producer. I brought in a friend to help with the art and direction throughout the event, and I realized just how under-equipped I am to live stream at an event. Fortunately, we got some help from the crew at the event, and I made a list of gear that I would need to upgrade or order. This is that list of gear that I have since acquired or will be acquiring in the near future with the reasons why they're needed. I'll also include some notes about other equipment that I already have and conclude with information about what my entire travel rig looks like in July 2019.
This continues my ongoing strategy of getting just the equipment that I need now, and not investing more for the best equipment before I'm sure that direction is appropriate for my production.
Powerful Rendering on the Go
For the past 18 months, I've been using my Surface Book 2 as my mobile streaming machine. It has an NVidia card (GPU) in the base, 16GB of RAM and can keep up with rendering and transmitting video. Its a nice laptop, but when I need to performance from the processor and GPU, the power supply just can't keep up. I use the Surface Docking station, which is just a glorified power supply with 4 USB adapters, a network adapter, and a mini-DV adapter. The Surface Book looks like a spider with every external adapter connected, and every application, every service running in the background disabled in order to ensure that OBS has enough processor to produce the stream.
The screencast with code editing that you see on stream comes from a second PC connected through a video capture device. I've covered this configuration in a previous blog post.
Replacement – Intel Hades Canyon NUC
I spoke to a number of friends and some hardware experts and considered a number of 'gamer' quality laptops. For rendering video to stream to video services like Twitch, I don't need a high-end video card. I need processor and memory to drive video transcoding and handle all of IO from the peripherals coming in. I could get a desktop tower with massive power, but that isn't very portable not to mention susceptible to damage from baggage handlers during transport.
The Intel Hades Canyon NUC that I chose comes with an i7 8809G, that's 4 cores with 8 threads. Oh, and it comes with an AMD Radeon RX Vega on chip as well. This crazy mash-up of Intel and AMD processor means that I've got plenty of horsepower to render overlays and transcode using OBS. The NUC has a 512GB SSD on board, and I upgraded it thanks to Amazon Prime Day with an extra 1TB SSD for a total of 1.5TB inside the device. There are 6 USB 3.x type A connectors on the box, which means I can connect all of my peripherals that I had connected to my laptop:
Microphone
Camera
2 Elgato Stream Decks (one for the director to control OBS, one for the one-camera talent to play sound effects)
Video capture card – the Elgato HD60s
Mouse
No. wait, my laptop had its own keyboard, so I'll need to connect one to the NUC as well… EXCEPT, the NUC has Bluetooth 4.2! I can connect my bluetooth keyboard and mouse, freeing up a USB slot that was dedicated for the mouse. I could also use one of the USB-C connectors on the device to connect an adapter that gives me two more USB-A connectors, and I can use my favorite wired gaming mouse. Choices are good.
I'm configuring the NUC in my home studio and will be running it as a secondary video editing workstation while I'm at home. This will help test and ensure my configuration is ready before I travel.
Professional Audio
I was using the onboard microphone array on the Surface Book 2 to broadcast. The quality was surprisingly good for an onboard device, and I was able to transmit audio nicely to stream. However, when I have more than 1 guest joining the show, or I need to have a stage setup that is not directly in front of the laptop, a new solution is needed.
Adding the H6 Zoom Audio Recorder
Prior to the Microsoft Build conference this year, I acquired the H6 Zoom audio interface with 4 lapel microphones. The device connects to my system over USB and performs all of the audio mixing itself. I can monitor the mix from the microphones on the device and mix-in the sound effects for my stream in OBS.
The four lapel microphones are nice, and each connects with 3-foot long XLR cables to the H6. For a larger production, this might not be long enough and might not give the freedom that our on-screen talent needs. For the SharePoint Conference, we borrowed some 12 foot XLR extension cables to provide enough freedom of movement for the presentation.
Planned Upgrade: Wireless Headsets
I borrowed some over-the-ear microphones from a friend for the Microsoft Build conference, and really enjoyed using them. I've added to my wishlist for the next round of upgrades a set of four Shure MX153T headsets with Nady XM-10 XLR adapters. They're wired, and I can get some XLR extension cords for cheap from the local music shop. They also come in a small case that can travel well.
The long range upgrade, is a pair of Shure BLX188 wireless microphone adapters. Each adapter comes with two belt-packs, two microphones, and can accept the MX153 headset. These adapters don't travel easily, and will force me to consider an additional bag when I travel.
HD Camera
The camera that I typically use on the road is the same camera I use at home, the Razer Kiyo. Its a great camera, and I've talked about it before on my blog. However, for a larger event where I need a good picture and I need an optical zoom feature, upgrades are needed.
Replacement: Sony Alpha a6000 with Elgato Camlink 4k
I've stepped up and acquired my first mirrorless camera. I watch a lot of other streamers, and some of my friends strongly recommended I consider a professional camera for my stream. I did some research, and found this amazing video from Harris Heller on YouTube that recommended the Sony camera along with some configuration instructions.
Harris has some GREAT tips for streamers, and I can not recommend his content enough for anyone interested in starting streaming.
I got myself the base camera with just the basic lens. At some point, I'll want a better lens, but for my purposes this is a great camera. It did not come with an AC adapter nor a way to stream to the PC. I grabbed a power adapter, an HDMI-mini to HDMI cable and an Elgato Camlink 4k to connect the camera to my rig. Additionally, I grabbed a tripod to mount the camera on.
I'm dying to try this camera in my home studio, and unfortunately my desk is against the wall with no space for the tripod. I'll be moving my desk around a bit to fit the tripod, but will start to stream with the new camera VERY soon.
Summary
I've stepped up and worked through another round of upgrades to my stream gear. This isn't NEEDED for anyone to start streaming, and this is certainly on the mid to higher end set of gear for a video production on Twitch, Mixer, or YouTube. What do you think? Do you have any recommendations? Let me know in the messages below.